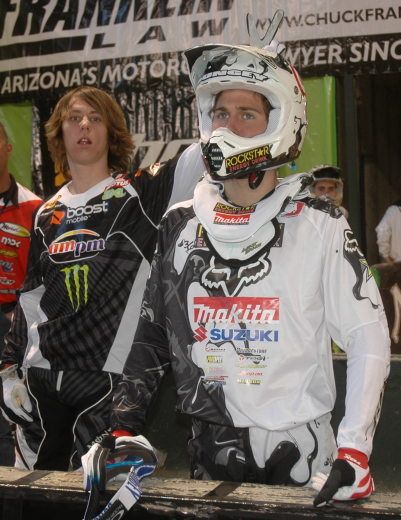 A few of you know that I spent the summer back in my homeland of New England, catching up with the Northeast lifestyle and reminding myself why people from there are better than other people. Great times were had and the world started to make sense again escaping the hustle of southern California. But the journey wasn't all great. Knowing that New England had spent the winter buried under about 50 feet of sweet Colombian white, I figured that I'd be running laps around all my amigos. Keep in mind, New England has some rippers that you never hear much about, since the sport is essentially landlocked out there. Sure, everyone knows Jimmy D, but guys like Robby Marshall and Mike Sottile and all the Jones Bros can ride the shit out of a dirtbike. Still, I figured that I'd come back and be showing them what's up, because I'm the shit, and it's time everyone else fucking knows it. Unfortunately, such was not the case. They are all still faster than me. Like, by a lot. I grew sad, each day at the track yet another reminder that even though I have been riding year-round while these fuckboys have been drinking beers and planning on who they'd eat first should a Donner Party situation come about, they are still faster than me. What the fuck, Jesus? Why do you torment me so? Alas, I am resilient, and I have managed to come to terms with my status in life. Since I know that many of you deal with the same pain, I have decided to document just how I did it.
Hang out with slower friends
I think this is super obvious, but go get some slower friends for your roster. It works off the exact same principle of girls who hang with ugly friends They don't have to be the best man at your wedding or the arbitrator at your divorce, but just have them around. I got this guy, let's call him Matt. He's a ginger AND shit on a dirtbike. I mean, the universe really hates this fucker. His style on a bike screams "I've pissed myself on the shortbus a few times." Great to have around, because I look like Ricky Carmichael's and Kevin Windham's moto-inclined love-baby around this dude. So go get yourself a Matt.
Have more Twitter/Instagram followers than them, and constantly remind everyone
The basic bitch rule: Twitter/Instagram is life, and even though having a following on social media means nothing for 99.9% of users on there, it is a huge judgment factor of your value as a human being. Beat me by 30 seconds that moto? Doesn't matter, I have more Twitter followers than you, chief. If my Twitter following equated to dollars, I've got like way more theoretical money than you. You can also talk about how many chicks you have banged, provided that you know the number is more than theirs. It's how I win arguments with 14-year olds every single time – "Whatever BRO, I've fucked more chicks than you." Check and mate.
Blame the bike
An absolute classic, dating back to the era of the Roman Empire when chariot racers had "mechanical issues". It is the absolute beauty of being in a motorsport – the machine can always take the blame. My bike isn't as fast as yours; my suspension wasn't working right; my throttle literally will not turn as far as yours. Boom, reputation salvaged. And don't worry, no one will figure out that you actually just lack talent and the ability to cope with that lack of talent.
Cheat
People say cheaters never win, but those people are the ones that think the world is filled with gumdrops and happiness, and that goodwill towards mankind is all that we need to survive. Total lunatics. Get out there, and start cutting the track. It's really easy to do in practice, and during the stopwatch nationals that you and your friends have, you will be miraculously chopping 10 seconds a lap off your times and have all of your friends with their jaws on the ground while you walk away with their bitch. Just like that, alpha male status retained. If you're in a race, just wait for a back section of the track to make your move. Happens all the time and the officials are always too occupied with which flag to wave to see anything.